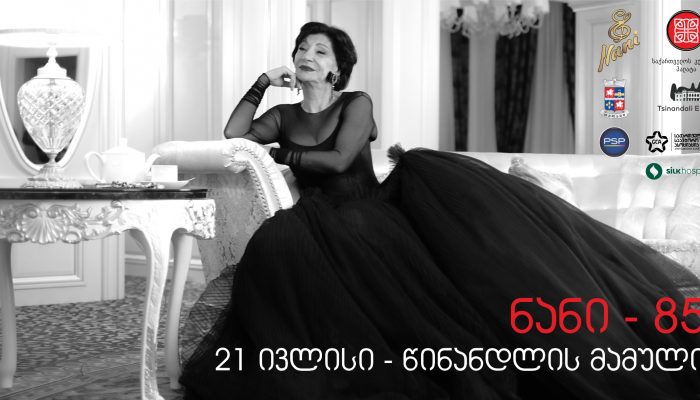 Nani Bregvadze – 85 years old
Nani Bregvadze – 85 years old
Nani Bregvadze – the heart of Georgian music
Has stood on the stage since 1942. The first time she stood on the stage was at 6 years old with her guitar and voice skills.
From 1956 she took part in the existing Georgian Technical University orchestra. In the international youngsters world festival she won a prize and took the first place.
From 1959 she became the soloist of national ensemble "RERO".
Nani Bregvadze is the first Georgian performer who revived Russian and Romani peoples performing culture, and revived Tamar Wereteli's, Qeto Japaridze's and Isabella Yureva's musical traditions.
Nani Bregvadze is the first Georgian performer, who in Paris Concert hall "Olympia" performed with Moscow's music-hall in 1964.
From 1964 she took part in the vocal-instrumental ensemble "ORERA" as a soloist. With "ORERA" she has traveled in more than 80 countries.
From 1980 she started a solo career, is the owner of many prestigious musical awards.
Nani Bregvadze especially partnered with legendary Georgian composers, Revaz Lagidze, Sulkhan Tsintsadze, Gogi Tsabadze, Gia Kancheli, Bidzina Kvernadze, Vaja Azarashvili.
In 1995 has been granted the status of "Honorary Citizen of Tbilisi".
In the year 2000 they opened a star in Tbilisi and Moscow in her name.
Nani Bregvadze always carries the love of her country and her people.
Nikoloz Rachveli
1979
Evgeni Miqeladze's Georgia's National Symphonic Orchestra's artistic lead and lead composer, pianist, conductor, Arranger, Rustaveli's and other international award-winner, UN's children's fond ambassador.
As time passed he has performed with Berlin's radio-symphonic orchestra, London's chamber orchestra, "Cremerata Baltika", Petersburg's philharmonic and Moscow's national symphonic orchestras, Tel Aviv Opera House Symphony Orchestra, Kiev's philharmonic orchestra, Ingolstadt Georgian chamber orchestra, Sulkhan Tsnintsadze Georgian national string quartet, Tbilisi symphonic orchestra and others.
He has shared the stage with representatives from various music genres, including Sting, Björk, Chris Botti, Liza Fisher, Katya Richaerli, Paata Burchuladze, Alexander Toradze, Liana Iskadze, Gideon Kremer, Yuri Bashmet, David Geringas, Kim Kashkashian, Elisabeth Leonskaja, Alexander Korsantia, Sergei Nakariakov, Khatia Buniatishvili, George Cagareli, Especially partners with classical performer a star Anita Rachveli.
His orchestras get high ratings from big movie composers, Michel Legrand and Ennio Morricone. With his conducting an honorary concert of Arvo Pärt and Gia Kancheli took place in Berlin's concert house.